To foster and promote the highest standards of professionalism for Victorian Conveyancers by providing continuing education and establishing best practices for the benefit of Members and the Consumer.
The Australian Institute of Conveyancers – Victorian Division (AIC Vic) is the peak professional body representing licensed and employee Conveyancers in Victoria.
Conveyancers are qualified professionals that specialise in all aspects of property dealings. The role of the Conveyancer is to assist consumers to smoothly and successfully complete the sale and purchase of real estate and any other property transaction that creates, varies, transfers or extinguishes the legal title of a property.
While the primary focus of AIC Vic is on State members and issues, we also address national issues through the Australian Institute of Conveyancers (AIC National).
WHAT WE DO
We aim to advance the interests of all Conveyancers in Victoria and build public confidence in the State's conveyancing industry by:
delivering member education, advice and support
setting and promoting high standards of education, work practices, ethical conduct and professionalism
administering our Certified Practising Conveyancer (CPC) Program
participating in conveyancing-related policy discussions with government and other groups
representing the interests of our members and the public in conveyancing-related legislative reform.
CERTIFIED PRACTICING CONVEYANCER (CPC) Program
AIC Vic administers a Certified Practising Conveyancer (CPC) Program to encourage and recognise high standards of education, work practice and professionalism among Licensed Conveyancers in Victoria.
Under the program, AIC Vic members who have completed a recognised educational qualification and have at least five (5) years of managerial experience in a conveyancing practice can apply to obtain CPC status.
Once conferred, CPC status can be used by a Licensed Conveyancer to promote their business and expertise.
The CPC Program was introduced by AIC Vic in 1998 and a copy of the current CPC Program can be CPD, CPC & Risk Management Explained.
CONTACT US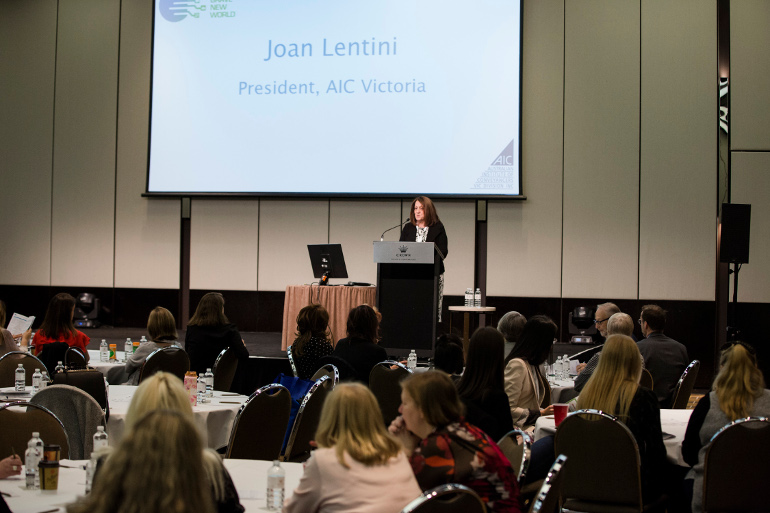 The operations and activities of AIC Vic are administered by:
Chief Executive Officer     
Anna Alexander   –   anna@aicvic.com.au
Membership & Programs Manager
Cassandra Piacentini   –   cassandra@aicvic.com.au             
Business Manager             
Tracie Crook  –  tracie@aicvic.com.au
Administrative Assistant              
Dani Rathugamage   –   admin@aicvic.com.au
AIC Vic
Suite 1, Level 7,
167 Queen Street,
Melbourne, 3000
Tel: 03 9328 8175
Email: admin@aicvic.com.au